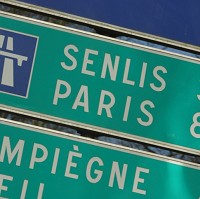 Language worries top motorists' concerns about driving abroad, the results of a new RAC European Breakdown survey show.
Nearly six million Britons are set to take their cars to Europe this year, but the research suggests 56% are not completely comfortable with the idea.
And most of them worry about not being able to talk to local mechanics or recovery drivers if their car breaks down abroad.
The RAC advises motorists to keep a translation book handy, but says any language problems can be bypassed by taking out comprehensive European breakdown cover .
Other worries highlighted by the survey include getting stranded abroad, the quality of local drivers, and confusion over unfamiliar road signs.
UK drivers say taking their car abroad gives them the flexibility they want on holiday.
But one in seven admit they have driven on the wrong side of the road, with 2% owning up to negotiating a roundabout in the wrong direction.
David Huggon, operations manager at RAC European Breakdown, says: "Driving abroad can be a daunting experience for some, but at the moment there's plenty to worry about before you even get to Europe with current industrial action and migrant activity causing disruptions to usual cross-Channel services.
"Ultimately, planning is key, and our advice is to make sure you have everything you need before you set off so that nothing comes between you and the open roads.
"There are a number of ways to prepare for your journey so that you are able to navigate your way around language barriers, and enjoy all that driving on the continent has to offer.
"A translation book could not only come in handy in shops and cafes, but may be useful if you happen to break down or be involved in an accident. However, it is no replacement for having comprehensive European breakdown cover as this way you won't need to worry about speaking a foreign language in the event of a break down.
"Each year, the RAC attends thousands of summer breakdowns on the continent, with most taking place in France. Travel insurance is always high on the list of priorities for Brits taking their car abroad, but motorists should be aware that they may need to increase their existing breakdown cover, or take out standalone European breakdown cover to steer clear of unnecessary stress and avoid any significant additional expenses."
Copyright Press Association 2015