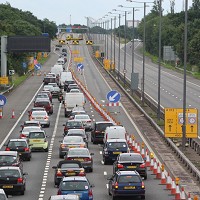 Long-suffering motorists had to endure 443,590 major route lane closures in 2014, new statistics reveal.
Breakdowns were by far the biggest cause - responsible for 185,457 (or 41.8%) - the Institute of Advanced Motorists (IAM) found.
Other reasons were "planned works" (61,857 or 13.9%), accidents (nearly 36,000 or 8.1%) and members of the public walking along active lanes (12,759 or 2.8%).
Illegal employment of a road's hard shoulder (7,446 or 1.6%), potholes (5,700 or 1.28), loose animals (3,990 or 0.9%) and suicide threats (856 or 0.19%) were also cited as being responsible.
The IAM said the new figures, obtained via a Freedom of Information request to Highways England , relate to primary A-road and motorways - throwing up "many worrying" issues.
The road safety charity's CEO Sarah Sillars says the research suggests drivers are placing not only their own safety at risk by those of other road users, by failing to properly maintain their vehicle.
This, she said, often results cars grinding to a halt on the UK's busiest roads.
Ms Sillars said she realised that some breakdowns, such as tyres blowing out cannot be prevented.
But a huge majority are preventable by taking action prior to journeying along a major road.
She adds that the latest figures make it obvious that road safety awareness and education initiatives are "badly needed" while children are at school.
Pedestrians and unsupervised children should not be wandering onto the road, nor should objects ever be thrown onto it.
The UK public are not treating the country's important economic routes with the kind of respect they warrant, the charity official added.
She went on that extra road funding would play a significant role in lowering a few of the "sorry statistics".
Ms Sillars cited the number of pothole-related incidences as an example, saying it was something that England could not find pride in.
Copyright Press Association 2015