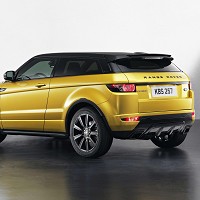 Images of the new limited edition Evoque model have been released by car maker Land Rover.
The vehicle is available in Sicilian Yellow with Santorini Black roof and mirrors, or in reverse, with black body and yellow roof and mirrors.
The company confirmed the new model will feature yellow stitching on the interior, including on the upholstery, door trims, and dashboard coverings.
Motorists thinking of buying the vehicle, and getting car insurance and breakdown cover may be interested to learn the lowest-CO2 option available is the two-wheel drive manual diesel version with 148bph.
The four-wheel drive automatic version, which has a 2.2-litre engine, will use 187bph.
Land Rover said most UK buyers will prefer the diesel option, although it added a version with a petrol engine will be offered on the market.
The four-wheel drive will feature 236bhp and an automatic gearbox as standard.
John Edwards, global brand director of Land Rover, said: "The Sicilian Yellow Limited Edition is the perfect opportunity to introduce the Range Rover Evoque into 2013 and build on what is already a tremendous success story."
Copyright Press Association 2013