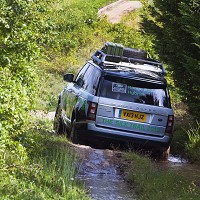 Land Rover is entering the hybrid SUV market with models emitting 169g/km of CO2 and capable of returning 44mpg.
The Range Rover and Range Rover Sport hybrids improve on the standard diesel Range Rover's 196g/km and 37.7mpg figures, but the firm insists they perform just as well as its SDV8 versions.
They feature eight-speed ZF gearboxes and are lighter than regular Range Rovers, with the 120kg hybrid system that provides 125lb.ft of torque and can power the vehicles on its own. Drivers can switch on the EV mode to make the hybrids do up to 30mph for as far as a mile just on electric power. The system is designed to take some of the load away from the V6 diesel engines and reduce fuel consumption.
The hybrids have outputs of 336bhp and 516lb.ft and go from 0 to 62mph in less than seven seconds. The Range Rover Sport Hybrid can reach a top speed of 140mph while the Range Rover Hybrid can go 135mph.Breakdown cover is available withLand Rover Roadside Assistance.
The models were designed especially to suit the needs of the hybrid system. The batteries are liquid-cooled and placed under the floor in a tough cradle so they don't reduce the interior space.
Copyright Press Association 2013