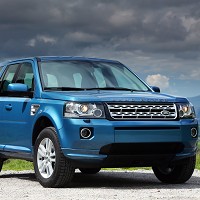 Land Rover believes its revamped Freelander 2 offers an even more comfortable and enjoyable driving experience.
The Freelander 2 model has been given a premium overhaul, complete with new colours, exterior design features and upgraded equipment levels.
Among the extra features added to the SUV are three new colour ways, a brand new centre console and optional satellite navigation, although some drivers may prefer to use an onlinejourney planner .
The overhaul also sees the key dock replaced with passive start, while a new 'intelligent' electric parking brake adjusts itself to whatever slope the vehicle is parked on. Drivers can keep their hands free by using a voice activation system with visual prompts, and park expertly with the help of rear view camera capability.
Land Rover global brand director John Edwards said: "The Freelander 2's equipment levels bring a more premium look and feel to the overall driving experience. In addition, our customers continue to benefit from our refined and economical range of diesel engines."
Copyright Press Association 2012