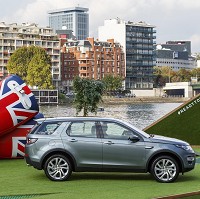 Land Rover's new Discovery Sport has been unveiled in a spectacular launch programme on the River Seine.
The new model, which is making its debut at the Paris Motor Show, arrived in the French capital on board a giant barge.
Reporters witnessed a truly unique display, which had a strong fashion theme befitting of the launch city.
Models of the premium compact SUV were surrounded on all sides by seven pairs of boldly-coloured, enormous Wellington boots. These were intended to represent the vehicle's versatility and family-focused 5+2 seating layout - as well as the carmaker's individual approach to outdoor life.
The new SUV will be available to buy next year when it will go on sale alongside Land Rover's current seven-seat Discovery. The vehicle will be made at the manufacturer's award-winning plant in Halewood, Liverpool.
The Discovery Sport will come complete with a range of intelligent new tech such as a new infotainment system. Its start price will be £32,395.
Copyright Press Association 2014