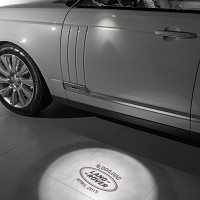 A British motor maker has literally shed some light on what it has done to celebrate manufacturing its 6,000,000th car.
Land Rover, the four-wheel-drive vehicle specialist, installed a commemorative puddle lamp 80cm-diameter (31.5in) visual on its landmark model - an LWB Vogue SE - which rolled off the production line on April 2.
The bespoke feature, signifying the motor's uniqueness, will be showcased to the world on Wednesday, April 22 at Shanghai's 2015 Auto Show.
Motorists thinking of buying a car from the Range Rover range can give themselves peace of mind by doing their homework first and checking out trusted Range Rover car reviews giving the inside track on the vehicles.
The lavish SUV's one-off graphic temporarily replaces the usual Range Rover's normal silhouette which is projected by its puddle lamps.
A special inscribed lens inside the vehicle's door mirror-mounted down-facing illuminator shows not only the 6,000,000 figure, but the maker's logo too.
This illuminated graphic is the same as was beamed onto Land Rover's Solihull plant wall to originally mark the occasion.
The graphic, which is no bigger than a rice grain's width, projects onto the road via a special magnifying lens each time the owner unlocks the car.
Jaguar Land Rover's Andy Goss said it was appropriate that Land Rover's 6,000,000th model should be a Range Rover. The firm's group sales operations director said this was because 2015 sees the 45th birthday of the launch of the inaugural model.
Mr Goss said that even now the Range Rover "remains peerless".
The one-off model is heading to a customer in Chinese. Mr Goss said this is fitting since the latest Range Rover gen has seen sales boom in China since its launch during 2012.
Land Rover's all-purpose vehicle-building history dates back 67 years. In that time the company had fused unparalleled all-terrain capacity, "refinement" and "great design" while introducing "ground-breaking" technologies and innovations, Mr Goss said
The biennial Shanghai Auto Show runs from April 22-29 at the National (Shanghai) Centre for Exhibition and Convention.
Copyright Press Association 2015