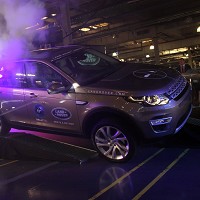 The first of Land Rover's seven-seater Discovery Sports has rolled off the production line.
Replacing the Freelander, the new Discovery Sport is being manufactured at Land Rover's Halewood plant.
And the first model to come out of the factory near Liverpool is to be given to Virgin Galactic, as part of a new commercial link-up between the two companies.
Motorists, meanwhile, should be able to buy a new Discovery Sport from early 2015.
Land Rover says despite having two folding seats in the boot, the 4.6m-long Discovery Sport is still shorter than rival vehicles that only have five seats.
The model will be able to cope with driving through water to a depth of two feet. Other features include power sockets, enabling up to 11 devices to be recharged at the same time, and as many as seven USB ports.
The company says the vehicle has kept and built upon the off-road capabilities of both the Freelander and the Evoque.
Copyright Press Association 2014