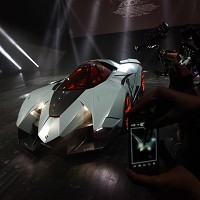 Lamborghini has offered a glimpse of a 'selfish' single-seater supercar; a car which allows a person to "have fun and express their personality to the maximum".
A crowd of around 700 Lamborghini owners were wowed by the Egoista concept at a gala dinner next to the company's Sant'Agata factory in Italy.
Lamborghini chief designer Walter De Silva designed the Egoista, which means selfish. It gives 592bhp from a 5.2-litre V10 engine, while the cockpit is a mix between a Formula One car and a fighter jet. There is a working ejector seat based on the Apache gunship helicopter.
Da Silva said he tried to design a car which summed up Lamborghini's passion.
"This is a car made for one person only, to allow them to have fun and express their personality to the maximum," he said.
"It is designed purely for hyper-sophisticated people who want only the most extreme and special things in the world. It represents hedonism taken to the extreme; it is a car without compromises, in a word: egoista."
Lamborghini CEO Stephan Winkelmann said: "I want it for myself, and I want it as I imagine it to be. It is a fanatical vehicle. Egoista fits it well."
Copyright Press Association 2013