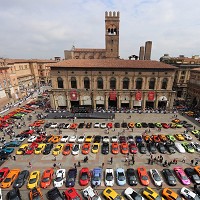 The 50th anniversary of Lamborghini's car division has been celebrated with the largest gathering of the brand's cars in its history.
Ending up at the famous Sant'Agata factory north of Bologna to mark half a century since the brand's first sports car's debut at the 1963 Torino Motor Show, the convoy of 350 Lamborghinis started in Milan before roaring ahead to Rome
Several small convoys formed the prestigious celebrations, and theirjourney planner included a police escort to allow free and uninterrupted progress for the iconic machines. This also afforded photograph and video opportunities for the legions of adoring Lamborghini fans that lined the route.
In order to play a small part in the celebrations, owners of Lamborghinis from 29 different countries, including Japan, Canada and Australia, spent as long as six weeks shipping their cars across the world.
A gala event, including a midnight firework display and a charity auction, at the firm's factory marked the end of the week-long Grande Giro (Grand Tour).
Copyright Press Association 2013