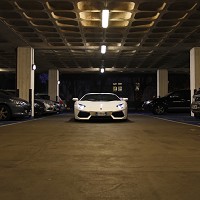 Police in Dubai have added a £360,000 Lamborghini to their fleet of patrol cars, according to reports.
The Lamborghini Aventador will be capable of chasing down criminals in the oil-rich Emirate state at speeds of 217mph and brings a touch of Italian elegance to the constabulary.
Police officials confirmed last month that their patrol cars were poised to undergo a makeover, but very few could have expected an Italian-made supercar to become the stable star.
Local media reports claimed the Lamborghini could be joined by several American Chevrolet Camaros in the coming weeks as Dubai Police aim for the world's best patrol fleet.
The tailor-made Aventador has been commissioned to help patrol the highways surrounding the desert city and adopts the same green and white colours as those worn by officers on the street.
The move follows plans to build the world's largest Ferris wheel in Dubai, while a new satellite city is also set to be built and named after the state's ruler, Sheik Mohammed bin Rashin Al Maktou.
Copyright Press Association 2013