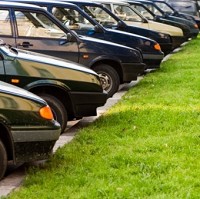 The Lada 2107, or Lada Riva, is no more after Russian car-maker AutoVaz announced that it would cease producing the model more than 40 years after the first one was rolled out.
Amazingly, the model was last updated in 1982 but has remained popular in Russia because of its simple mechanics, cheap parts and general low price.
The same characteristics led to the saloon becoming the object of considerable ridicule in the UK and Western Europe as its poor reliability and build quality often meant thatbreakdown cover was used far more frequently than with most other cars.
The Lada 2107 - which was based on the 1966 Fiat 124 and originally called the 2101 - has risen above such derision to sell more than 18 million cars for AutoVaz and production is only just ceasing because of a recent but drastic fall in demand.
Lada will continue to produce other models such as the Kalina, Priora and Granta but, after Skoda's resurgence under the ownership of the VW Group, it will probably continue to be the butt of a few jokes in Britain at least.
Copyright Press Association 2012