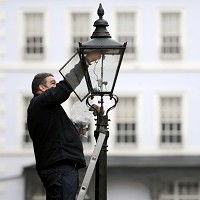 Labour has accused the Tories of plunging "significant areas of Britain" into darkness as some councils seek to keep a hold on budgets by switching off or dimming street lights.
According to information obtained by Labour from 141 English councils, three-quarters are turning off or lowering some street lights at nights - at a detriment to motorists and road users, the Opposition party said.
Just 35 local authorities said they are not altering the street lights - compared to 106 which admitted to either dimming or switching off the lights and 42 carrying out both practices.
The figures show that in total 1.36 million lights were either off or dimmed at night-time, while 148,000 were off or lowered in May 2010 - or under 3% - out of a total of 5.7 million in the areas surveyed.
Labour blamed squeezed budgets and high electricity prices for the rise of the number of lights either switched off or dimmed across Britain.
Shadow communities and local government secretary Hilary Benn attacked "David Cameron and Eric Pickles' policies", saying at this time of year street lights ensure that drivers and pedestrians feel safe and reassured when travelling home in the dark.
In a comparison of all councils, more Conservative areas are applying cuts to night-time street lights - at 29% - compared to 13% in Labour boroughs, the poll showed.
Copyright Press Association 2014