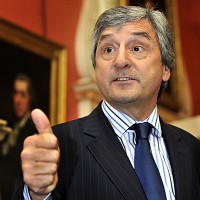 Shadow Transport Minister Jim Fitzpatrick has called a trial switch in motorway speed limits from 70mph to 80mph "crazy and dangerous".
The Government is currently planning to trial an increase to 80mph on Britain's motorway network, despite Transport Secretary Patrick McLoughlin reportedly being ready to scrap the proposals drawn up under former Transport Secretary Philip Hammond in 2011.
Road safety groups have fiercely opposed raising the limit, saying that it would increase the number of road traffic accidents.
A rise in accidents could also potentially have a widespread effect on insurance premiums .
During Commons Transport questions, Mr Fitzpatrick invited Coalition Transport Minister Norman Baker to back down over the proposed trials.
"Can I invite the minister to very safely do a U-turn here and formally announce that the Coalition will not proceed with 80mph trials," he said.
Mr Baker said that the Secretary of State would be making a statement regarding an increase to 80mph in due course.
Copyright Press Association 2013