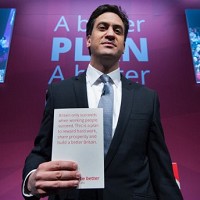 Two major road projects may be shelved to fund rail plans if Labour win next month's general election.
Ed Miliband said that it will delay work on Somerset's A358 and the South Coast's A27. This is to fund a 12-month rail fare freeze and the party's plans to launch a cap on each journey for possible future increases.
RAC demands clarity
The RAC fears that diverting money earmarked for the current administration's Road Investment Strategy (RIS) to the railways may see proposed projects never undertaken.
This, it says, would be a "serious retrograde step" for the UK's roads.
Only last December the RIS plan was hailed as a victory for lovers of common sense. Labour, though, insists it is still committed to long-term funding of leading A-roads and motorways.
The party said that by delaying the two southern road projects it could introduce its £200 million-plus rail plans.
These would include helping train customers to secure the least expensive journey available, as well as introducing a fresh nationwide rail body to supervise railways and give users more say.
Labour's transport plans also include giving local authorities more say on how buses run, and bringing buses, trams and trains together into one single smart ticketing-led network.
Brighton Kemptown & Peacehaven's Conservative candidate Simon Kirby spoke of his "outrage" at Labour reneging on cash earmarked for key A27 improvement work.
Strong economic case
David Bizley, chief engineer of the RAC, said: "While the promise from Labour to place a greater focus on improving local roads - something the RAC has long since called for - is to be welcomed, on behalf of motorists we would like clarity on what exactly is the party's position on the strategic road network.
"On the one hand, the party states it 'support(s) long-term investment in strategic roads', but on the other reports indicate it plans to divert funds destined for two much-needed projects in Somerset and Hampshire to help fund a cap on rail fare increases.
"These two projects are fully costed, should have strong economic cases, and formed part of the previous Government's Road Investment Strategy (RIS) which was sold to motorists as such a long-term vision for our strategic roads.
"It would be a serious retrograde step for the nation's roads if the RIS itself is now gone back upon, before there has been time for it to deliver tangible improvements to our roads. Is there also a risk that, as other spending cuts take hold, delayed projects actually never end up seeing the light of day?"
Copyright Press Association 2015