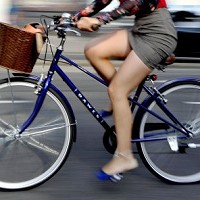 Labour is promising to fund measures to get Britain cycling if it wins the General Election.
The party is pledging to spend more than £360 million on cycling if it forms the next government.
It will establish a new advisory board, giving both cyclists and pedestrians a say on transport policy, and give every child the chance to learn to ride a bike.
Michael Dugher, the shadow transport secretary, says investment in roads would include £250 million worth of measures to promote cycling and make the roads safer.
On top of that he says Labour will also match the £114 million that the current government has said it will spend on supporting cycling in eight cities across the nation.
Mr Dugher says the advisory board would be tasked with compiling a cycling and walking strategy designed to get more people travelling by bike or on foot.
He says Labour wants to promote active travel and put cyclists and pedestrians on the "top table" when it comes to formulating policy.
Labour says it will also back schemes that teach children how to cycle and ensure justice is done when riders are killed or seriously injured on the roads.
Copyright Press Association 2015