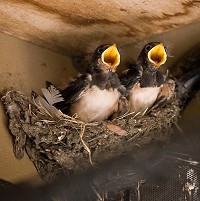 It's a fly-drive tale that may sound as if it's a bit too hard to swallow. But a family of the migratory birds are set to fly south after being happily raised in a working Land Rover.
Staff at Pensthorpe Nature Reserve in Norfolk discovered the nest in the roof of the vehicle they use for visitor tours.
A net hammock was rigged up inside in case the swallow chicks fell from the nest as the vehicle bounced over the bumpy terrain.
But four chicks have now successfully fledged, having already clocked up many more miles than a normal young swallow.
Reserve warden Darren Williams, 45, said: "Ultimately they'll nest wherever they want to nest and there's nothing we can do about it.
"Swallows do have predators on the reserve so I suppose they just thought it was a safe environment.
"The birds seemed very happy and, as we returned from tours, you could almost set your watch by the parents returning with a mouthful of food to feed their chicks."
He said it was possible that the birds, using their own innatejourney planner , may return to the reserve next year, "looking for their favourite Land Rover".
Copyright Press Association 2013