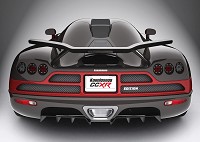 Supercar manufacturer Koenigsegg is stepping in to save fellow Swedish carmaker Saab, which is owned by troubled US parent company General Motors.
GM, which is restructuring after seeking Chapter 11 bankruptcy protection, will continue providing Saab with chassis and power-train technology during the handover period.
After the sales, the company will receive $600 million (£365 million) from the European Investment Bank, guaranteed by the Swedish government.
Said GM Europe boss Carl-Peter Forster: "This is yet another significant step in the reinvention of GM and its European operations."
Saab was originally created as a division of the Swedish Aeroplane Company, which was founded in 1937 to build aircraft for the Swedish Air Force.
With the Second World War nearing its end, the company began looking for new markets in which to expand, and in 1947 it turned to car production.
In 1989, GM paid $600 million for 50% of Saab's car division with an option to acquire the remaining shares within a decade. Losses continued, and the Malmo plant was closed in 1991.
Copyright © Press Association 2009