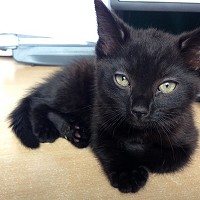 A search is underway for the owners of an adventurous female black kitten that hitched a ride on a council van.
South Somerset District Council horticulture staff were surprised to find the tiny feline in one of the wheel arches of the van following a 20-mile journey from the council depot in Lufton near Yeovil to Bruton.
Council representatives believe the kitten, which is only a few weeks old, was hanging onto the van the whole way and must have got on at the depot.
They haven't yet been able to find out who her owners are and the council's portfolio holder for the environment, Councillor Jo Roundell Green, is hoping they will get in touch soon so the kitten can recover from the trauma of her journey in her own home.
She is urging the kitten's owners to contact the South Somerset District Council Streetscene services department on 01935 462839 and arrange to be reunited with their kitten.
Copyright Press Association 2014