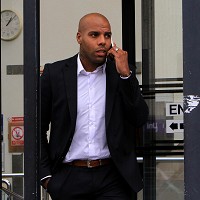 Judges at the Court of Appeal have dismissed an attempt by footballer Marlon King to change his sentence over a driving offence which left a motorist seriously injured.
Former Birmingham and Sheffield United striker King pleaded guilty to a charge of dangerous driving at Nottingham Crown Court in May and was handed an 18-month jail sentence.
The 34-year-old had been eating an ice-cream while driving his Porsche on the A46 in Nottinghamshire in April last year before causing a three-car pile-up.
Melissa Millin, counsel for King, asked the Court of Appeal in London for permission to appeal the prison term, with a view to changing it to a suspended sentence.
She said such a change in sentence would allow King to travel to be with his wife and three children in Zambia, where the family has recently relocated.
Ms Millin added that King's wife was struggling with depression while she ran the family business and cared for elderly parents on her own.
However, in denying leave to appeal the sentence, Mr Justice Lindblom - sitting with Lord Justice Aikens and Mr Justice Hickinbottom - said the sentencing judge had described King's conduct as "madness".
Copyright Press Association 2014