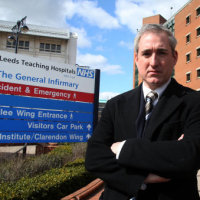 Motorists who kill or seriously injure people as a result of driving dangerously are set to face tougher sentences, according to an MP.
Greg Mulholland says the tougher penalties are expected to be announced during tomorrow's (Wednesday) Queen's Speech.
At the moment those convicted of causing death by dangerous driving face a maximum prison sentence of 14 years.
But Liberal Democrat Mr Mulholland, who has been campaigning for changes to the law, says those convicted of the offence are, on average, spending just four years in prison.
The sentences given to motorists who kill - including drunk drivers - often do not reflect the seriousness of the crime, he adds.
The Leeds North West MP says: "It cannot be right that while the sentence for homicide is life in prison, the average sentence for a criminal driver who kills someone is just four years."
Mr Mulholland says he welcomes reports that tougher penalties are to be announced by ministers in the Queen's Speech.
The move, he adds, will help to ensure that the victims of criminal driving and their families get the justice they deserve.
The Criminal Driving (Justice for Victims) Bill, which includes changes related to sentencing, was introduced by Mr Mulholland in the House of Commons earlier this year.
Copyright Press Association 2016. Motoring News articles do not reflect the RAC's views unless clearly stated.