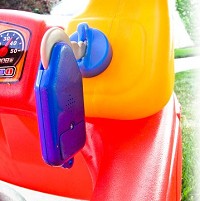 An iconic children's toy is no longer just for little drivers as a grown-up version has now been created by two brothers.
As many as six million of the US-built Cozy Coupe toy cars for the under-fives were sold by Little Tikes in 2004 alone.
But adults with their hearts set on buying a car with a difference can snap up a special roadworthy adaptation on eBay for £21,500.
Professional valuers put a £30,000 price tag on the machine, which took 1,000 hours to make at a cost of £4,000.
Geoff Bitmead and mechanic brother John are the men behind the model, which has a strictly limited production run of just one car.
The pair put it together at Attitude Autos' Bicester branch in Oxfordshire. Boasting a maximum 70mph speed, the 800cc engine propels it from 0-60mph over 17 seconds.
Experts describe it as a halfway house between a Volkswagen Beetle and Fred Flintstone's Footmobile.
The new Cozy Coupe for adults has been designed with all the specifications of the toy vehicle. This even goes down to its oversized drinks holder and windows without glass.
The crazy car has already appeared at various charity events and shows around the country, travelling more than 5,000 miles.
The Bitmeads admit that it is not going to set new land speed records. But they add that it will always generate smiles, no matter where it goes.
The brothers say they have had "incredible fun" during their time with the adult Cozy Coupe. No trip has been undertaken without other road users taking photographs of the unique model, they add. The toy versions usually come in red and yellow, but have been built in other colours too.
Copyright Press Association 2015