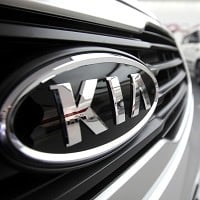 A cosmetic repair product that covers scratches on cars will be sold by Kia Motors outlets around the UK.
The Korean company will supply its new and used-car dealer franchises with the 'do it yourself' high performance repair solution for minor scratches.
A cross between a paint and a ultra-thin adhesive film - Stickerfix is made by AkzoNobel, the Dutch multi national company which creates decorative paints and performance coatings.
A deal has been secured to re-brand the product in Kia packaging to sell in its outlets as the company's product.
The solution for minor scratches is described on the Stickerfix website as "Easy to use, eco-friendly and colour matched to your car".
The product has proved popular and will be available in tw- thirds of the Kia shops that have already ordered stands and stock.
Paul Turner, KMUK parts manager, said: "We have worked with AkzoNobel for many years in a variety of different aftersales areas of our business, and have established a strong working relationship.
"Stickerfix is a unique repair solution and the first AkzoNobel consumable product to be launched with Kia branding. With all the associated marketing material and proactive support from the AkzoNobel team we are confident that it will prove popular and we will see growth in our aftermarket sales."
Copyright Press Association 2012