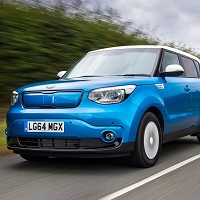 Kia has beaten off strong challenges from Volkswagen and Nissan to scoop eco-car magazine AutoVolt's Best Small Family Car Award.
The Kia Soul EV secured the gong at the annual awards, after seeing off the e-Golf and LEAF.
The editorial team from the magazine - dedicated to hybrid and electric vehicles (EV) - outlined the reasons for small families buying a car from the Soul range.
Judges pointed to its practicality and adaptability among its class-leading characteristics.
AutoVolt editor and founder Jonathan Musk says the Soul EV has a warranty lasting seven years and honours its promises.
For example, it really does achieve the 132 miles (212.4km) it claims it can, he said.
Mr Musk called the Soul EV a "fantastic", "class-leading", "no-compromise" electric motor. He added it is currently the finest solution for motorists worried about electric vehicle myths but contemplating EV ownership.
The model has only been available for around a year and is the company's only battery-electric car to sell worldwide.
But in that time it has become a firm favourite among drivers with its range and 200 Wh/kg battery energy denseness among its highlights.
Corporate communications director of Kia Motors (UK), Steve Kitson, called its first EV both simple and "efficient" to drive.
The combustion-engined Kia Soul has been popular among city drivers for years now, Mr Kitson added. He said Kia is "delighted" at AutoVolt's award and its acknowledgement that the Soul EV can deliver "great" emission-free day-to-day driving.
The plan is to establish a robust customer base as Kia predicts that an increasing amount of urban drivers will be won over by the merits of converting to electric.
Copyright Press Association 2015