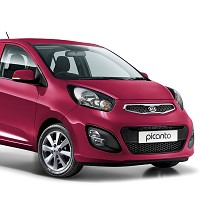 Kia has unveiled two special edition Picantos - Fuchsia Blush and the Picanto White.
Fuchsia Blush is a bright version of the city car model and is available on five-door Picantos in mid-range two and top-spec three trim, which cost £445.
The Picanto White is available as a three-door and takes over from the Halo and Equiniox models. It comes with five-spoke 15-inch alloy wheels and engine stop-start through Kia's Smart Entry System. It also features Bluetooth, climate control and reversing sensors.
Other highlights include a black tiger nose grille with an eccentric red surround and a leather-trimmed steering wheel with mounted audio controls, while a 'Hollywood style' vanity mirror offers a three-stage illumination and ambient LED lighting.
Prices for the Picanto White start from £11,745 for the 1.25-litre 84bhp petrol version equipped with a five-speed manual gearbox, with the 1.25 84bhp four-speed automatic on sale for £12,345.
Copyright Press Association 2013