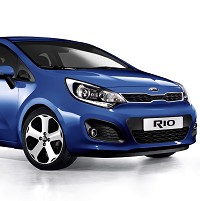 Kia Rio has driven away with the top prize in Car Dealer Magazine's annual awards.
Kia claimed the title in the Car Dealer Power Awards after dealers across the country named the super-mini the most popular car.
The Kia was named the Car Dealer Power Car of the Year at the awards ceremony at the Spinnaker Tower in Portsmouth.
The latest Kia Rio has attracted huge recognition in the UK market since it went on sale last September.
It features four engines including the 1.1 CRDi engine and a seven-year warranty.
Its fuel consumption is 88mpg and it has among the lowest CO2 emissions at 85gm/km of almost all non-electric cars.
And with all these features drivers would be wise to ensure their award-winning motor is covered bycar insurance .
Michael Cole, Managing Director, receiving the award, said: "Car Dealer is essential reading for all of us at Kia - and winning the Car Dealer Power Car of the Year Award is an honour as it has been voted for by other magazine readers and dealers.
"We have sold almost 8,000 Rio since the latest models release last autumn and with the recognition of this award l am sure sales will continue to increase at a pace."
Copyright Press Association 2012