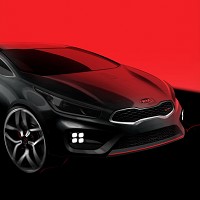 Kia has unveiled a concept drawing of its new pro_cee'd GT to whet car fans' appetites ahead of its 2013 release.
The pro_cee'd GT will be the Korean auto manufacturer's first hot hatch and is looking to compete in what remains a profitable sector of the European car market.
Exact specifications are in scant supply at the moment, but the sketch reveals the GT will reflect the firm's established style.
Kia has confirmed that the pro_cee'd GT will have a turbocharged petrol engine, and a power output which is likely to be around 180bhp.
Kia's parent company Hyundai manufactures the range-topping Veloster Turbo at that power output and it is improbable that they would allow the pro_cee'd GT to out-perform its star attraction.
The pro_cee'd GT will come with a Kia's standard seven-year warranty, although drivers will still require breakdown cover in case of road-side emergencies.
Test drives are likely to begin in August 2013, with the car's official launch set for the traditional September plate-change.
Copyright Press Association 2012