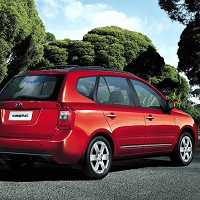 Kia has been forced to recall over 25,000 vehicles in Britain over fears of a faulty brake light switch.
Ongoing monitoring of vehicle operations and research and development checks have highlighted a faulty switch that could lead to the car's rear brake lights not illuminating, or remaining illuminated after the driver's foot has left the pedal.
The problem is found on a number of vehicles manufactured between 2006 and 2011, including the previous model Carens, Sedona, Sorento and Sportage, some current Sorento and Soul models, and a few Optima models. The issue stems from carbonisation on the switch contacts that can disrupt the electric current.
Kia insisted braking performance or the operation of anti-lock brakes have not been compromised by the fault, with the firm stating no accidents have been attributed to the problem.
Kia will contact affected owners and invite them to take their cars to their local dealer for a replacement switch, which motorists have been assured only takes a matter of minutes and is free of charge.
Copyright Press Association 2013