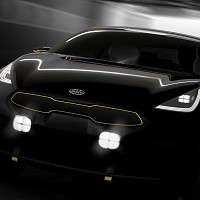 Motoring experts are piecing together clues from "teaser" images released by Kia, as to how its new supermini-sized concept car will shape up when it makes its debut at the Frankfurt Motor Show next month.
Although Kia has released some images of the unnamed concept car, details are scarce. Kia has said that the car "hints at a possible future B-segment contender," and features "intriguing elements not always associated with smaller cars."
Such suggestions are now whetting the appetite, and although the exterior of the car is dark and partially obscured in the exterior image released, Kia's "tiger-nose" grille is clearly visible.
Also a confirmed feature are "ice cube" LED running lights, similar to those of the recently-launched Proceed GT.
A sporty exterior appearance is suggested from the wide wheelarches, steeply sloping bonnet and curved roofline, while the minimalist interior sports only a simple array of switches and a one-piece moulding for the centre console and seats.
Comparisons have been made to the Cub concept car which was revealed at the Seoul motor show in March this year. Kia also revealed the Provo concept car at the Geneva motor show at the same time.
All this suggests that a sporty, compact crossover similar in character to the Nissan Juke is due to be launched soon. Car insurance and breakdown cover deals will be available.
Copyright Press Association 2013