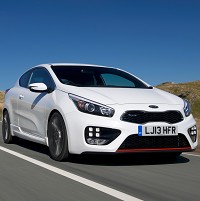 Kia has promised its new high-performance GT car will offer a memorable driving experience along with practicality, affordability and comfort.
The three-door pro_cee'd GT will go on sale in the UK on 1 July with prices starting at £19,995. Kia says the model, which is seen as the sporty cousin of the cee'd range, is its most performance-orientated car.
It is likely to be followed next year by a GT version of the five-door cee'd
A turbocharged 1.6-litre direct-injection petrol engine powers the pro_cee'd GT, giving a 0-60mph time of 7.4 seconds and a top speed of 143mph.
There is re-tuned suspension, with increased damper rebound and compression rates and stiffer springs and bushes. There is a larger rear anti-roll bar along with 18-inch alloy wheels and Michelin Pilot Sport 3 tyres.
There are two interior trim offerings - 'GT' and 'GT Tech'.
Kia is also marking its entry into the world of of performance hatchbacks by releasing a limited-production launch model, the 'GT 1st Edition'. Just 500 examples of this model are being produced, with only 50 heading for the UK.
Copyright Press Association 2013