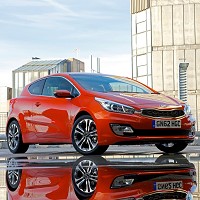 Kia has announced full details for the new Pro_Cee'd three-door hatchback, which offers motorists a choice between petrol and diesel.
The S and SE models both come with 1.6-litre engines. The 126bhp CRDi diesel is £1,100 more expensive than the 133bhp GDi petrol. However, it offers CO2 emissions of 100g/km and is eligible for free road tax. The diesel also avoids congestion charges.
Despite striking similarities in the engines, there are differences in performance between the two models. The petrol SE reaches 60mph 0.3 seconds quicker, while the diesel SE is a whole second faster than the diesel S.
S models cater for most drivers' needs and feature air conditioning, cruise control and a USB media input port. The SE offers key features such as bigger wheels, push-button start and automatic windscreen wipers with a built-in de-icer function.
Motorists can get the petrol S model for £17,495. The diesel S starts at £18,595, with an additional £2,000 required for an SE. The dual-clutch automatic gearbox is unique to the petrol SE, which can be purchased for £20,795.
While the Pro_Cee'd three-door hatchback is particularly attractive to companies, regular road users will also be drawn to the car. Before buying any vehicle, it is important to find out the cost ofcar insurance .
Copyright Press Association 2013