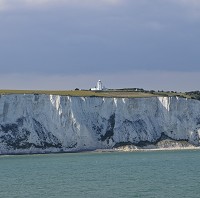 Motorists looking to access Europe's favourite family holiday hotspot by car don't even have to leave mainland Britain to find it, a new report from Lonely Planet suggests.
Kent has beaten off the rival claims of Germany's Black Forest and Normandy in France to head the travel firm's top 10.
The specialist producer of travel guidebooks reckons Kent provides a great domestic family holiday which is doable by car. It places the so-called "Garden of England's" charms ahead of Ireland's County Kerry in second spot and the Black Forest in third.
Motorists setting their journey planners to Kent are offered plenty of intriguing opportunities for inquisitive young mindsets, the travel guide specialist said. The South-East county's attractions include Margate, Dover's white cliffs and Broadstairs.
The former hasn't lost its personality despite becoming "gentrified", while the latter appeals as the former home of Great Expectations author Charles Dickens.
Kent won, despite two of its most popular destinations being named as difficult to access at holiday time in an official list of traffic hotspots published last year . The then Highways Agency found that Folkestone and Dover were particularly hectic in late July.
Kent was not the UK's only representative in this top 10, however.
The Welsh destinations of the mile-long Marloes Sands beach and Skomer Island marine life nature reserve in Pembrokeshire scooped ninth place.
Beach-loving drivers also have two of Europe's best beaches in mainland Britain, according to Lonely Planet's best beach list. Devon's Bantham Beach off Kingsbridge was ranked sixth for its appeal to walkers, families and surf lovers.
Sutherland-based Sandwood Bay north of the border came seventh, attracting rave reviews for its exquisite, remote views.
For drivers in search of perfect family holidays wishing to travel further afield, then the Hungarian capital of Budapest won fourth spot, while Austria's Vorarlberg was ranked fifth.
Finland's land archipelago and Spain's Ibiza finished sixth and seventh respectively, while Normandy's France (eighth) and Slovenia's Bohinj (10th) made up the list.
Budva's Jaz Beach, Montenegro, topped the best beach charts, while Iceland's fish port town of Akureyri did likewise in the best European places list.
Copyright Press Association 2015