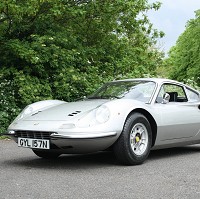 A Ferrari that used to belong to rock star Keith Richards is to go under the hammer.
The Dino 246GT was bought by the Rolling Stones guitarist in California when it rolled off the production back in 1972.
It is to be sold with no reserve in Monaco on May 9, and auctioneers expect to see a wealth of interest among collectors.
Coys, the auction house behind the 'Legende et Passion' sale, believes the classic motor is a highly desirable and collectible item in its own right, never mind the fact it has been driven by rock and roll aristocracy.
Richards kept the Dino for fourteen years until 1986, during which time he covered more than 25,000 miles.
He brought it to the UK in 1975 where it was registered to his address in Munro Terrace, Chelsea, and assigned the UK registration number GYL 157N.
A letter from Alan Dunn, manager of the Rolling Stones, will come with the car, confirming Richards' ownership and mileage up until April 1986.
The Dino has spent an extended period in a prestigious Japanese collection since the rocker parted ways with it.
Copyright Press Association 2014