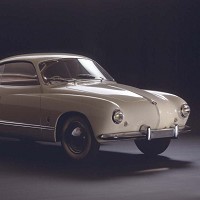 One of the most iconic vehicles to wear a Volkswagen badge is getting ready to celebrate its 60th birthday in style.
VW Classic in Germany has lent VW Heritage in the UK three of its Karmann Ghia prototypes especially for the VolksWorld Show this weekend, which is taking place at Sandown Park in Surrey.
Described by American industrial designer Walter Dowin Teague as one of the world's most beautifully designed products, the Karmann Ghia is a rare piece of design history, and at 60 the vehicle is still turning heads.
The 1953 Karmann Ghia prototype, a 1960s prototype for a future Karmann Ghia, based on the VW Beetle chassis, and the 1600 TL prototype from 1965, which was a variation on the production Type 34, are the models that have made the short trip to the UK.
British drivers will be able to get up close and personal with them, paying homage to a car that altered the motoring landscape.
The Karmann Ghia hit showrooms in 1955 and immediately made an impression, thanks to its sleek design.
VW Heritage CEO David Ward says the car heralded a new era of design ingenuity.
He says it is an honour to be showing off the three prototypes in all their glory at the VolksWorld Show.
Copyright Press Association 2015