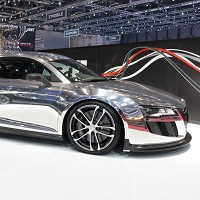 It seems standard silver paint just didn't have enough flair for Kourtney Kardashian's boyfriend Scott Disick, who has unveiled a new chrome-plated car which wowed the rest of the Kardashian crew.
If you ever had to use yourbreakdown cover in this vehicle then at least you would be able to check your hair while you waited to be rescued.
Disick unveiled his new car to the family and Kim Kardashian was on hand to get behind the wheel straight away and post photos and updates via Twitter.
The star tweeted: "Scott's sick new car! Chrome!
"Who needs a mirror when I'm driving @scottdisick's car!?!"
Disick then re-tweeted the comment, adding: "No need."
It is thought the Audi R8 would have cost Disick as much as £180,000 for the car and the chrome wrap.
Copyright © Press Association 2012