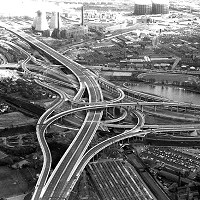 Spaghetti Junction's popularity has fallen with just a fifth of local people now feeling positive about the famous motorway landmark, a study by Motorpoint has shown.
Just a third of residents near the Birmingham junction - one of the biggest in Europe and carrying 210,000 vehicles daily - now regard the site affectionately.
The huge meeting point of vehicles travelling to and from all parts of the country can mean extra stress for drivers, who can at least set some of their worries to rest by taking out breakdown cover .
Motorpoint's Jim Hood supported the junction, officially called the Gravelly Hill interchange, saying it is something people either love or hate, adding: "We think it is more than just a stretch of concrete".
Covering 30 acres, the interchange took four years to finish and was designed as the gateway to Birmingham from the M6.
Copyright Press Association 2013