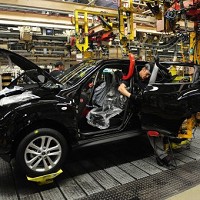 Two English-built mini SUVs have helped partially restore the country's rugby pride.
England's players went out at the group stages of the World Cup. But two Sunderland-built Nissan Jukes have just played a big part in setting a new record for the fastest-ever rugby ball interception.
Lewis Moody, the 2003 England World Cup winner, helped to advise on the stunt, which needed a 50mph-plus speed to set the new mark.
The attempt involved leading stunt motorcyclist Lee Bowers racing between the Jukes to catch the ball after standing on his bike seat.
He intercepted a ball being thrown from a couple of 30mph Jukes tilted on their side, with the passers including Terry Grant, the stunt driver.
But Bowers' breathtaking deeds were not finished once he caught the rugby ball.
He then dramatically crossed a fire-blazing try line before he touched down to commemorate the new Guinness Book of World Records mark.
Moody said he thought he had seen almost everything that could happen in rugby. He said he had never seen something like the fast pass before, however.
The rugby England ace was working in partnership with NatWest, England's rugby partner.
NatWest's head of sponsorship, brand and advertising Rhidian Taylor says the bank hopes that the stunt will help inspire fresh men and women into rugby, whether volunteers, fans or participants.
Taylor added that 2015 has been a huge one for the sport.
Copyright Press Association 2015