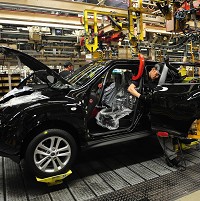 A new diesel engine is giving the Nissan Juke extra benefits.
Lower emissions, better fuel economy, reduced noise and extra torque are among the advantages delivered by the Juke's latest 1.5-litre dCi diesel engine.
Abreakdown of the engine changes show that:
- maximum torque has been improved from 240Nm to 260Nm at 1,750rpm
- 80% of this figure is available from only 1,500rpm to enhance the driving experience
- CO2 emissions are now only 109g/km
- it has a combined fuel economy of 67.3mpg.
These all add up to making the new unit the Juke stable's most efficient engine.
Technical changes have fuelled these upgrades.
These include amended piezo-electric fuel injection nozzles, which now have a more exact spray pattern for improved combustion (with 15% less unburnt fuel).
They also see a new, more responsive, low-inertia variable geometry turbocharger fed by a more direct - and more efficient - air intake path.
There is also a closed-loop low-pressure exhaust gas recycling system.
Here, the exhaust gas is cooled before being re-introduced to the intake system, helping to ensure the unit is compatible with forthcoming Euro6 emission regulations.
Copyright © Press Association 2013