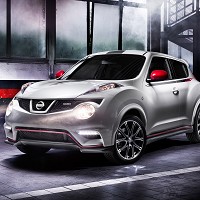 Nissan is to release a high performance vehicle based on the Juke that, if the promotional images are anything to go by, ticks all the boxes in terms of style and substance.
Designed by the Japanese car manufacturer's performance division, Nissan Motorsport International Limited, the Juke Nismo possesses a 1.6-litre DIG-T turbocharged petrol engine and is expected to cost around £22,500.
Considering its stylish body and highly tuned engine that is not a bad deal, while motorists can always offset some of the cost by shopping around for the best-priced car insurance deals available online.
News that a high performance version of the Nissan model would go on general sale was announced at the Le Mans 24 Hours race, which took place last weekend.
Not much is known abut which other Nissan model could also get a high performance facelift but it has been confirmed that the manufacturer wants to introduce a Nismo range across many of its models.
Copyright Press Association 2012