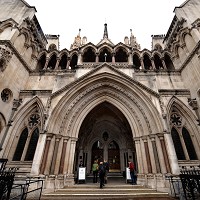 A High Court judge has denied two women damages in order to "stem the tide" of bogus insurance claims.
Mr Justice Mostyn was presiding over a case involving two immigration officers, who failed to report any adverse effects for a week after a car crash others said was no more than a "little bump".
He said there was "an improper pecuniary motive" to their "inaccurate" and "evasive" claims. The judge described Britain's compensation culture as a "national phenomenon".
Motorists are paying around £90 a year more for their car insurance premiums because of whiplash claims that add up to more than £2 billion a year overall.
More than three quarters (78%) of all low value motor injury claims involve whiplash, more than any other European nation and well over the 48% average on the continent. Around 477,000 whiplash claims were made in 2012/13, the equivalent to close to one every minute.
Whiplash cases have risen despite the fact the UK's roads are becoming safer all the time and it is now the fraud of choice, according to an Association of British Insurers spokesman.
Copyright Press Association 2014