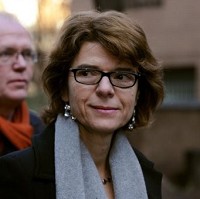 Chris Huhne's former wife will face a retrial after the judge dismissed the jury in her prosecution for perverting the course of justice.
Vicky Pryce, 60, from Clapham, South London, sat emotionless in the dock, with her chin in her hand, as Mr Justice Sweeney told the jury that their role in the case had ended.
The eight female and four male jurors told Mr Justice Sweeney that it was "highly unlikely" that they would reach a majority verdict.
Pryce had entered a defence of marital coercion to charges that she took speeding points on behalf of her ex-husband in 2003.
Mr Justice Sweeney told the jury that he was grateful for their honesty in their failure to come to a verdict.
"Against the background of the length of time that you have been in retirement already, I have decided therefore, and it is my decision one way or the other, that I must discharge you from any further deliberations," he said.
Following thebreakdown of her marriage in 2011, she revealed to the press that she had agreed to take Huhne's penalty points after he was caught speeding a decade ago.
A new jury is expected to be sworn in for Pryce's retrial on Monday.
Copyright Press Association 2013