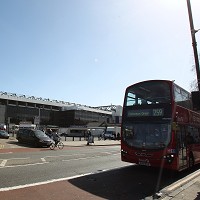 Transport bosses are right to let black cabs use London bus lanes - but ban minicabs, a High Court judge has ruled.
Mr Justice Burton said transport law allowed travellers to hail black cabs - but not minicabs.
He said it therefore made "good sense" to let black cabs move into bus lanes because they needed to be "visible and available".
The judge ruled after a minicab firm complained that Transport for London's policy on bus lane use was unfair.
"I consider it makes entire good sense for black cabs to be travelling in bus lanes," said Mr Justice Burton.
"Minicabs just do not have the need to use the bus lane, and black cabs do."
The judge said if minicabs were allowed to use bus lanes then chauffeured cars, delivery vehicles, lorries and private cars might also have a justifiable claim.
"It seems to me entirely clear that there is an objectively justifiable ground for distinction between black cabs and minicabs in relation to the use of the bus lane," he said.
"If however the exception were to be extended to include minicabs, which do not have that same justification, then I cannot see any further stopping point, any further rational distinction between them and the other vehicles."
Copyright Press Association 2012