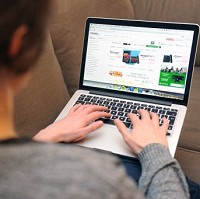 The roads may seem busier than ever but car use in England could have passed its peak, new figures released by the Department for Transport (DfT) suggest.
The DfT's National Travel Survey shows that the typical person in England is now making less journeys per year than at any other time since records started around 50 years ago.
The RAC Foundation says the trend is partly down to a change in shopping habits, which has seen increasing numbers of people buying from online retailers.
According to the NTS report, people in England made an average of 921 journeys last year, 16% less than in 1995/97.
It says that is down to people making less car journeys and covering less mileage by car, despite there being no change to the proportion of households having access to one over the last decade.
The report says while people are making 43 less shopping trips than they were back in 2002, they are also taking 19 fewer journeys to get to and from work.
It points out that some 80% of those surveyed had indicated that they ordered shopping online or by phone or post last year, adding that one in 20 workers are now based at home.
RAC Foundation director Steve Gooding says: "Our habits are changing and while the number of shopping trips we make as individuals are down sharply, light commercial traffic is on the increase as the number of home deliveries grow.
"Across Britain van mileage is rising faster than that by any other vehicle type, up 6% over the past 12 months."
Copyright Press Association 2015
https://www.gov.uk/government/uploads/system/uploads/attachment_data/file/457752/nts2014-01.pdf (National Travel Survey)