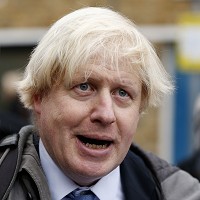 Motorists should be offered cash to persuade them to scrap their highly-polluting cars, according to Boris Johnson.
A scrappage scheme offering payments ranging from £1,000 and £2,000 for highly-polluting diesel vehicles older than a year has been proposed by the Mayor of London, who has been questioned by Parliament's Environmental Audit Committee.
The measure has been put forward as a way of improving air quality in the UK's capital city. It is part of Mr Johnson's "transport emissions road map", which outlines ways London can hit EU air quality targets by 2020.
It also includes plans for an "ultra low emission zone" in central London, for which more polluting vehicles will have to pay extra to enter.
The mayor called on the Government to provide funding to tackle local pollution hotspots and encourage more environmentally-friendly public transport, with money for hybrid and electric buses and taxis which are capable of zero emissions.
Mr Johnson's calls follow Labour's announcement that it is planning a national framework to help councils introduce low emission zones in their areas.
Legal action was launched against the UK earlier this year by the European Commission after it did not reach targets on reducing levels of nitrogen dioxide that should have been hit by January 2010. The gas is produced mostly from traffic fumes.
Copyright Press Association 2014