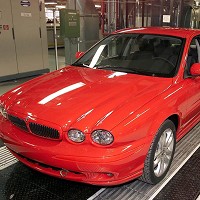 Up to 300 jobs will be lost when Jaguar halts production of its X-Type car at the end of the year, it has been announced.
The recession has taken grip of the motor giant, which said it would be seeking voluntary redundancies from the 2,000 workers currently employed at its factory in Halewood, Merseyside. The plant will also close for three weeks in September as part of an extended shutdown.
David Smith, chief executive of Jaguar Land Rover, said: "Our industry has been especially badly hit by the recession and the premium sector more than others.
"Jaguar Land Rover's retail sales fell by 28% in the past 10 months. We have taken unprecedented actions to cut costs including reduced production volumes, significant cuts to investment plans and some 2,200 job losses.
"Ceasing production of the X-Type early, with further redundancies and temporary shutdowns at Halewood is necessary to protect our other investment plans."
Mr Smith added that the state of the market would dictate any further actions taken by the firm.
Copyright © Press Association 2009