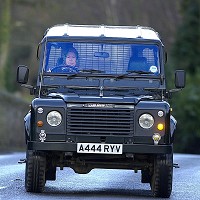 Land Rover has announced that it will cease production of the famed Defender model from December 2015.
Based on the original Land Rover, which was launched in 1948, the Defender name did not appear until 1990 after the launch of the Discovery the previous year.
Land Rover has since added the Freelander to its range as well as maintaining the Range Rover.
Head of Jaguar Land Rover's (JLR) individual products division said that the model, which is produced at the company's Solihull plant, is "known and loved the world over".
The iconic 4x4 has appeared in a number of films including Lara Croft: Tomb Raider and the recent James Bond flick, Skyfall.
"A new replacement vehicle will join the Land Rover model range, but we have not yet announced the name nor any details of the new product," said a Jaguar JLR spokesman.
"The Defender in its current format is coming to an end and we are looking at what the options are going forward."
Copyright Press Association 2013