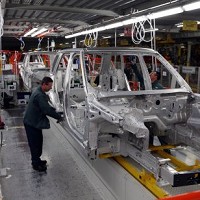 The new F-Pace model has prompted a fresh £120 million worth of investment in Jaguar Land Rover's (JLR) Solihull factory.
The high-end car manufacturing giant announced the plan for its flagship West Midlands plant at the Frankfurt Motor Show .
JLR chose the prestigious German show to exhibit the F-Pace, which is being constructed alongside its Jaguar XE .
The company has now invested £620 million in its Solihull works.
Ralf Speth, chief executive of JLR, says its funding of the F-Pace's development proves the company's commitment to the UK.
Dr. Speth says that JLR is crossing fresh frontiers in manufacturing, design and engineering to develop "outstanding" motors.
Copyright Press Association 2015