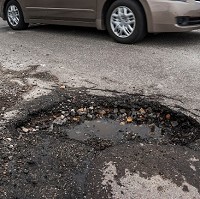 Jaguar Land Rover's (JLR) scientists are creating technology to help drivers combat one of their biggest bugbears.
The motorist of the future will be buying a car which can avoid potholes, if the researchers' plan comes to fruition.
Only this March, the Asphalt Industry Alliance reported that a sixth of the UK's roads were rated in a poor condition.
Such hazards leave many motorists having to claim on their car insurance .
JLR's latest research, however, can not only assist motorists in dodging these road hazards, but it can also alert them to would-be problems.
Its accident-reducing tech network will do this by scanning uneven street surfaces ahead.
The British manufacturer wants tomorrow's "connected" vehicles to be installed with its state-of-the-art "pothole alert" tech.
This innovation will also share pothole hotspots via the cloud, to pool knowledge with other drivers in the area.
The company is in talks with local councils, helping them to identify roads most requiring urgent attention by formulating a pothole-problem digital map.
This should make maintenance more efficient and faster, especially as it will also pinpoint other car-harming hazards such as damaged drains and manhole covers.
This network is the latest measure paving the way to self-driving vehicles, which experts predict will claim control of the road for computers and away from humans.
JLR visualises that its pothole alert system's warnings will enable human drivers to avoid risks by slowing down.
Simultaneously, high-tech suspension networks would automatically adapt their settings in order to smooth the ride.
JLR plans to trial a vehicle which includes the latest road surface recognition tech using a digital camera.
The company's connected vehicle director, Mike Bell, said JLR researchers are looking to upgrade the accuracy and measuring of its pothole detection system, through road scanning.
Dr Bell said JLR is ultimately looking for a system which would guide vehicles around potholes without them diverting into other lanes and creating a potential hazard for other motorists.
RAC spokesman Simon Williams said: "Potholes are the scourge of every motorist so it's encouraging to see motor manufacturers developing technology to help lessen the impact of the problem.
"But anyone can take direct action themselves to help improve the quality of our roads by using the RAC's free Report Pothole app .
"Every report made goes direct to the relevant highways authority so they can prioritise getting it repaired."
Copyright Press Association 2015