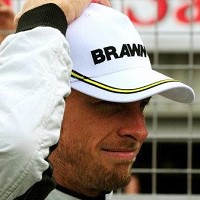 Jenson Button`s domination of this year`s F1 championship was undermined in front of his home crowd at the British grand prix at Silverstone.
After six wins in eight races, this time he started and finished sixth behind up-and-coming Red Bull`s all-conquering Sebastian Vettel, who cruised to the third win of his career.
In doing so, the 21-year-old scored Formula One's equivalent of the hat-trick - known as the grand chelem - of pole position, race win and fastest lap.
But Button, who was not helped by the cool British weather, which meant that his tyres were not up to the job, was philosophical: "Hopefully this will be the worst race of the year. After struggling so hard to get three points, in a way this might be an important three points," he said.
He finished 46 seconds behind the winner. Vettel also left his own team-mate, Mark Webber, trailing by 15 seconds, and Button's Brawn GP colleague Rubens Barrichello 41 seconds in arrears.
World champion Lewis Hamilton, meanwhile, could only manage 16th place after struggling to get the best out of his McLaren.
Copyright © Press Association 2009