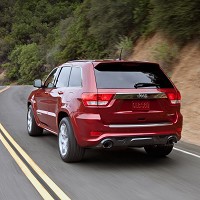 Jeep's new Grand Cherokee SRT is a flagship model with a capital F and tips a nod towards the environment.
It boasts a powerful-but-clever 6.4-litre Hemi V8 engine under the bonnet, but most of the time it works as a V4 thanks to technology allowing four cylinders to be shut off with light input on the throttle.
The SUV gives buyers an average of 14.1mpg and CO2 emissons of 328g/km, with the potential for 461bhp and 460lb.ft with all eight cylinders charging to allow the 2.36-tonne model to reach 62mph in five seconds and a top speed of 160mph.
The four-wheel drive system can be biased 65% towards the rear for more aggressive performance and Chrysler andJeep are calling it a driver's car with its Formula One-style paddle shift technology and electronic limited-slip differential, but despite its five-speed gearbox and thirst for 91-octane petrol being distinctly old-tech.
It is, however, packed with gizmos and flushed with leather upholstery and is remarkable value when such a performance SUV costs £58,995.
Copyright Press Association 2012